Type of Character 
Edit
L'ran is usually at Normal power, but excessive emotion can trigger Boss-grade attacks, agility, and speed. He does not gain any durability, though.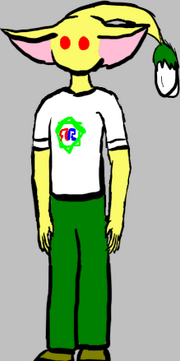 Alive.
Appearance
Edit
See pic.
Standard electrokenesis, the ability to secrete flammable poison with a room-temperature boiling point from his pores, and the occasional bursting into flame when sufficiently angered. Conversely, depression makes him a heat sink.
Weaknesses
Edit
His skin is very flammable and he does not preform well in warm, humid environments.
Resistances
Edit
Cold and most poisons don't affect him.
Immunities
Edit
Electricity is just added to his power storage and, although not immune, mind control and/or reading takes a very long time due to his eternally derailed train of thought.
Personality
Edit
Withdrawn around strangers, highly moral. Very mature for his age. Walks or runs around when bored. Lawful good.
The son of a White mother and a Yellow father, L'ran was exiled at the start of the war. He came across Bulbax Kingdom and saved it from a Pilated Snagret, earning exemption from the Emperor's diet. He met up with the rest of the Bug Group and lived with them. After fighting his brother, his parents found him and L'ran has been cheerier than before.
Standard- Forest of Hope
Battle- Wild Pokemon Battle Ruby/Sapphire